from: Interesting Engineering
by: Saoirse Kerrigan
The History of Robots: From the 400 BC Archytas to the Boston Dynamics' Robot Dog
Take a journey through the long history of robots, from the 4th Century BC to today.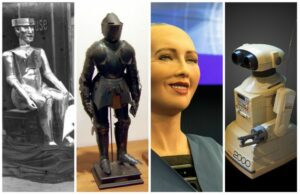 Robots have fascinated and preoccupied human minds for centuries – from ancient tales of stone golems, to modern science fiction. Though the word "robot" was only officially penned in 1921 by Karel Čapek, mankind has endeavored to create autonomous machines since as far back as the 4th Century BCE.
Today, robots are widely used across a variety of industries, aiding in the manufacturing of vehicles and more. According to the International Federation of Robotics, in 2015 there were as many as 1.63 million industrial robots in operation worldwide, and that number continues to grow steadily each year.
Here's a brief history of how robotics have evolved and grown from the early imaginings of 400 BCE, to the global resource they are today.