Collierville HS Wins VEX State Championship
Congratulations to the Collierville VEX Robotics Team who won the TN State Championship on Saturday in Nashville. The robot named "The Illuminati" was crowned Tournament Champion and will advance to the VEX Robotics World Championship in Louisville, KY April 20-23. The Illuminati team also received the Sportsmanship award, voted on by the other tournament teams and Shelli Brasher (their coach) received the award for TN VEX Partner of the Year for establishing VEX robotics in West TN.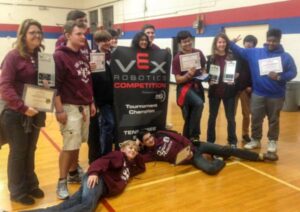 The Collierville team is looking for sponsors to help offset transportation, hotel and meals costs. Contact Shelli Brasher at (sbrasher@colliervilleschools.org) if you are interested in helping sponsor the team at the world competition.
Related items:
TVA Cheers on Valley Robotics Team Heading to World Championship