From: The Daily Memphian
By Michelle Corbet
Updated: December 19, 2018 4:00 AM CT
A new sport is emerging in local middle schools — robot battles.
St. Mary's Episcopal School, a private all-girls pre-K through high school, held its first VEX IQ Challenge Tournament at its East Memphis campus last weekend.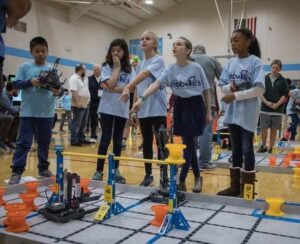 The event sold out within 30 minutes.
If an indication is needed to show how popular robotics competitions have become among kids, that's it.
"I told the girls that robotics is a new sport," said Meagan Michael, a lower school science teacher at St. Mary's.
Participants came from Piperton, Medina, Collierville and Memphis. The 32 competing teams were made up of co-ed elementary and middle school students ranging from 3rd to 8th grade.
"It's this generation of students," Michael said. "They are interested in STEM and robotics."
A lot of schools, including St. Mary's, also are pushing robotics because it involves problem solving.
"When building robots, it requires a lot of skills students might not learn in the classroom," Michael said.
Parents are recognizing the benefit of robotics competitions as a way to prepare their child for jobs of the future.
"Parents realize their girls are learning how to think," said Hilary Robinson, head of St. Mary's Lower School. "We say this a lot around here; we're preparing these girls for jobs that don't even exist yet. If they can learn to problem solve and think, then they can ultimately do anything."
Competitions are not solely about building robots, they also involve design, writing and public speaking.
St. Mary's has been working to host a VEX Robotics competition since Michael joined the school as a new teacher last year.
"She was already involved with the VEX program and brought that to St. Mary's," said Laura Leathers, St. Mary's assistant head of school. "We've been in conversation about growing the program and hosting a competition here."
St. Mary's is part of Girl Powered, Redefining the Face of STEM, a global initiative to increase girls' access to and confidence in science, technology, engineering and math (STEM) careers.
Launched in 2016 by the Robotics Education & Competition Foundation and VEX Robotics, Girl Powered is striving for 50 percent of robotics competitors to be girls.
The ultimate goal is shattering the status quo.
Currently, girls make up about 23 percent of VEX Robotics participants and women represent 24 percent of the STEM workforce, according to Girl Powered.
"Our main goal is to open (robotics) up to the greater Memphis area," Leathers said. "All these different VEX teams can come together, learn, compete and meet each other in this common space."