From Commercial Appeal
by Henry Bailey Jr
Aug 21, 2013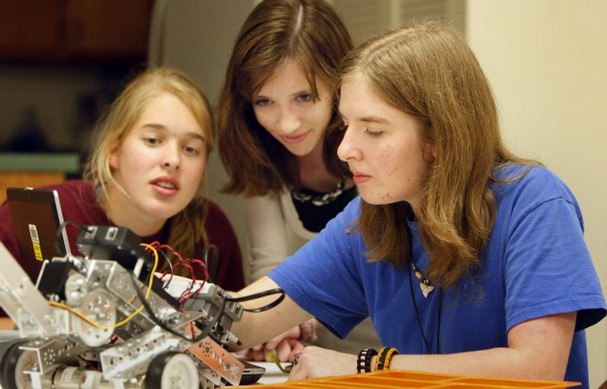 [Stan Carroll / The Commercial Appeal]
The DeSoto 4-H Robotineers robotics club's high school-age team-champs in Mississippi competition in May – are getting the gears meshing to secure financial help to attend the Sept. 28-0ct. 2 national tourney at Purdue University in Indiana.
The four-member team and its sponsor, 4-H agent Jessica Lindsey, are half-way toward their goal of raising about $2,SOO to send them to West Lafayette. Meanwhile, the youth program's robotics activity is going and growing in the county.
An appeal by Lindsey and team member Nathan Rodgers, a Hernando home-schooler, to the Board of Supervisors brought a $1,000 allocation from the county's fund for advertising county resources. Added to that is about $550 already raised from donations from Rotary, Country Ford and the Pickering engineering firm.
"We're the pilot program from Mississippi going to this competition," Lindsey said.
"It's been a great way to learn about teamwork, and it makes math and science part of the fun, a challenging game," Nathan added.
The other teen members are Renee Anderson of Hernando High, Rebecca Robinson of Lewisburg High and Audrey Johnson, a Hernando High graduate who's now a Northwest Mississippi Community College freshman in Senatobia.
Supervisors expressed fascination with robotics and teenage potential.
"This is the field of the future," said Supervisor Lee Caldwell of Nesbit.
The DeSoto schools educator made Monday's motion to allocate the funds after Dr. Joy Anderson, director of Mississippi State University Extension's DeSoto office, which oversees 4-H, said robotics is a relatively new program and isn't a line item on the 4-H budget.
Robotics at 4-H is on a roll: "We have an average of 30 at our meetings in Hernando," said Lindsey. "And there'll be a new robotics club starting soon in Olive Branch," she said.
Robotics, underway for about five years now, is among the many activities in 4-H for youths ages 8-18.
For information, contact Lindsey at 662-429-1343.